Bonnie Campbell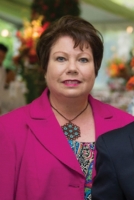 Bonnie Campbell
Executive Committee
Bonnie Campbell has served as director of the Museum of Fine Arts, Houston's Bayou Bend Collection and Gardens since 2004. A 14-acre estate listed on the national register of historic places, Bayou Bend displays a major collection of pre-1900 American art and antiques in the former mansion of collector Ima Hogg (1882-1975). From its opening in 1966, Bayou Bend has had an added focus in 19th-century Texas material culture, and over time has acquired a significant collection of Texas-made furniture, silver, pottery and art. Beginning in 2007, a biennial symposium promotes new scholarship in the field, and 2011 saw the launch of the William J. Hill Texas Artisans and Artists Archive, an online database documenting work produced in Texas prior to 1900.
Before coming to Bayou Bend, Bonnie served as executive officer of the Bob Bullock Texas State History Museum in Austin for the first 3 years of its operation, following her role as project manager during the 1996-2001 planning and construction phase. Her experience also includes a 15-year tenure as the first curator of the Texas Capitol, during which time she helped manage various aspects of the 10-year, capitol restoration and expansion project. She received a B.A. and an M.A. in the history of art (Occidental College; Clark Art Institute Graduate Program at Williams College).
Bonnie's interest in Texas art began in 1985 when she became curator of the Texas Capitol. Working with museums and private collectors, she expanded the range of Texas art on display in the building, focusing on the 1880-1920 era, the project's restoration period. The loan program evolved into a permanent collection. Through these efforts she was asked to become part of the group that founded CASETA; she served on its first board and received CASETA's Distinguished Service Award in 2010. Since 2003 she has assisted a Houston collector with the development of their collection of early Texas art.
<< Return to List