Sponsorship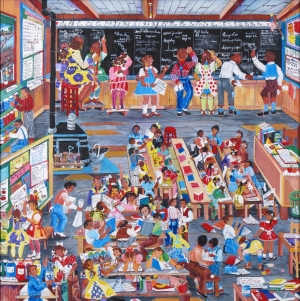 Ruth Mae McCrane (Corpus Christi, Texas 1929-2002 Houston, Texas)
Untitled, Oil on board, 30" x 30"
The John L. Nau lll Collection of Texas Art
SPONSORSHIP
2021 Virtual Fall Forum
Sponsorship Opportunities
We think you will be pleased that there will be no registration fee to attend the Forum. However, CASETA will incur costs to present the Forum, such as speaker honorariums and videography. Therefore, sponsorships are needed, and will be much appreciated!
Please help support the 2021 Virtual Fall Forum. It is CASETA's primary means this year for raising the funds we need to carry out our educational mission.


You may mail your contribution to:
CASETA
PO Box 3726
San Angelo, TX 76902
or
Donate through PayPal or credit card at the bottom of this page:
Grand Underwriter $10,000 and above

Diamond $5,000 and above

Platinum $2,500 - $5,000 and above

Gold $1,000

Silver $500

Bronze $250


THANK YOU!
2021 CASETA VIRTUAL FALL FORUM
SPONSORS
Diamond


Bill and Cynthia Gayden
Platinum

Charlie and Alice Adams
John and Cele Carpenter
Gold
Bonnie Campbell
Scott Chase & Debra Witter
Mark and Geralyn Kever
Marshall Meece
George Palmer
Lee and Candyce Pfluger
Jeffrey and Patricia Sone
Howard Taylor
Vogt Auction
Julia and Stephen Wilkinson
Silver
Judy & Stephen Alton
John Barnett
Dan Butler
James Clement, Jr.
Jim Cochran
Susanne M Glasscock
L.W. Martin,Jr
Ted and Nancy Paup
William and Linda Reaves
Ben and Beverly Stribling
Judy Youngblood
Bronze
Russ Aikman
Mary Arno
Art League Houston
Art Museum of South Texas
John and Dolly Barclay
The Dawson Dawson-Watson Family
David Dike
Eric Franke
Kenneth Hamlett
Billy Hibbs, Jr.
Helen A Houp
Bob and Pam Leibrock
Robert F McBee
Joseph and Sarah McKeel
Samuel and Connie Pate
Red Bud Fine Arts
San Angelo Museum of Fine Arts
Lesley Schlumberger
Konrad Shields
Jeff Steen
Craig Micah Woodcook
William R Woodward
Sandra S Lloyd

Institutional Partners
Amon Carter Museum of American Art
Villa Finale Museum and Gardens
CASETA is a 501(c)(3) non-profit organization, and your contribution is tax-deductible to the full extent allowed by law. You may mail your contribution to CASETA at PO Box 3726, San Angelo, TX 76902 If you have any questions, please feel free to contact Howard Taylor, Executive Director, or email: [email protected].
---
To be a sponsor for the CASETA Fall Forum, you can mail your contribution to:
CASETA
PO Box 3726
San Angelo, TX 76902

Please include your name, address, and e-mail address (if available) along with your contribution. Please make checks payable to CASETA.



or



Donate through PayPal or credit card:
CASETA Sponsorship Online Payment

To make an additional gift to CASETA, enter the amount after clicking "Donate"

Print Friendly