2020 Award Winners
2020 CASETA Awards
The Bill and Mary Cheek Patron Award
Is given for providing substantial leadership, resources and inspiration in advancing our understanding and appreciation of the rich visual arts heritage of the State of Texas
Nancy and Ted Paup | Ft. Worth, Texas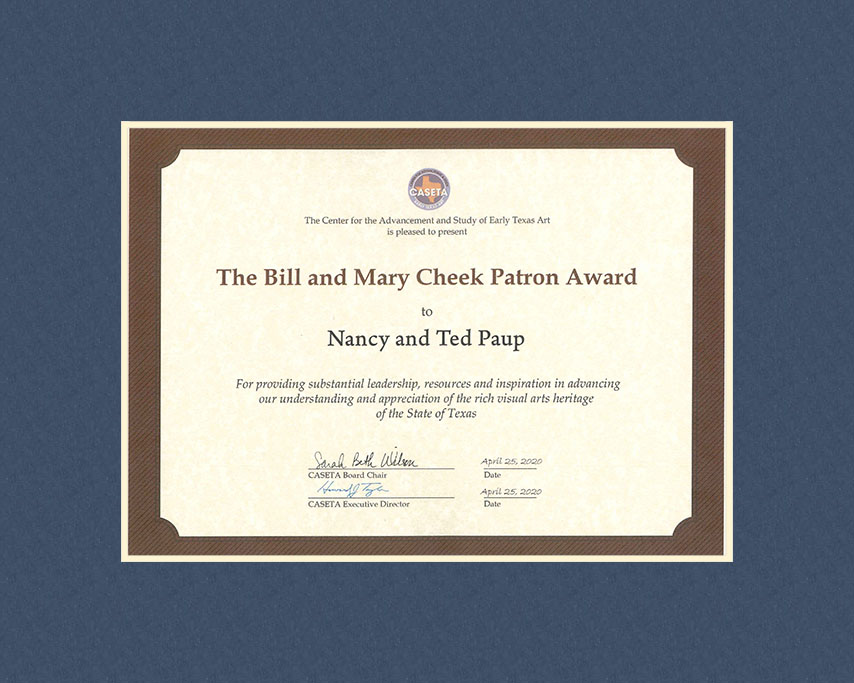 Nancy and Ted Paup, who reside in Fort Worth, are longtime supporters of CASETA. Nancy, a former TWU Regent who received her bachelor's and master's degrees in education from the university, is a fundraising consultant and former corporate relations and membership manager of the Amon Carter Museum of American Art. She currently serves on the Advisory Council for the Institute for Women's Leadership. She also previously served as a board member of the TWU Foundation. Ted is the president of Paup Mineral Management, L.L.C. Nancy and Ted initiated the Nancy and Ted Paup CASETA Research Initiative Award which is awarded annually at the CASETA Symposium; this carries a monetary award as well.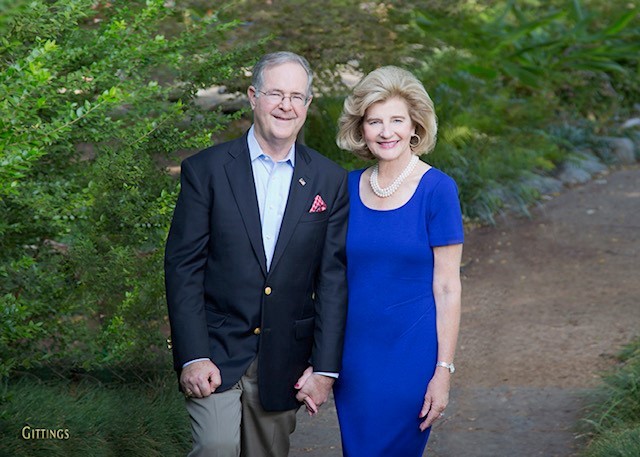 -----------------------------------------------------------------------------------------------
The William and Linda Reaves LIFETIME ACHIEVEMENT AWARD
Is given recognition of your lifetime of devotion and service to the advancement of scholarship and our understanding of early Texas art
James Surls | Carbondale, Colorado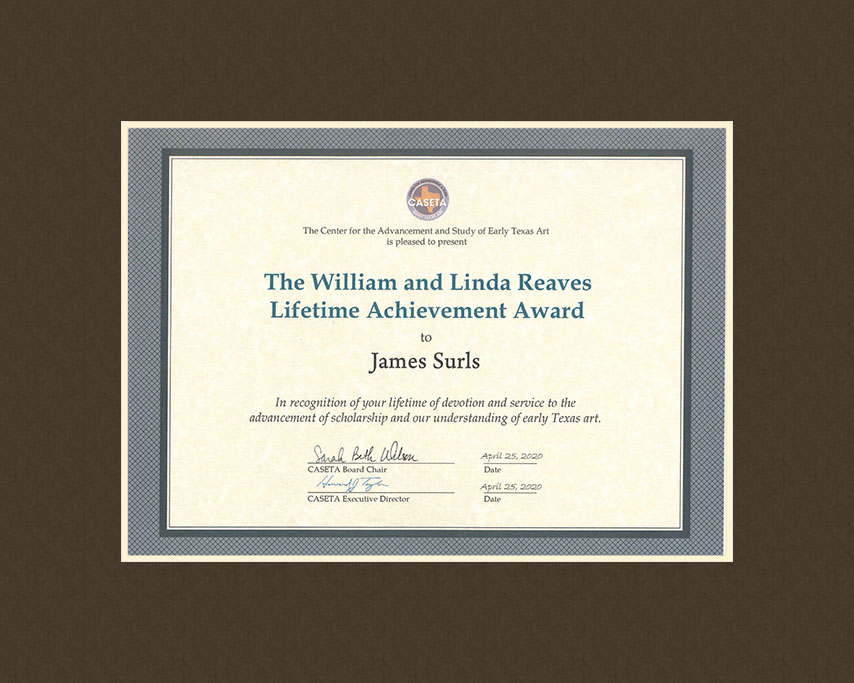 James Surls is an internationally-known artist and one of the most preeminent sculptors in the United States. A native of Malakoff, TX, he graduated from Sam Houston State Teachers College in 1966 and from Cranbrook Academy of Art in 1968. After holding a teaching position at Southern Methodist University for 11 years, he moved to Splendora, TX, with his wife, artist Charmaine Locke.
Surls' artwork has been exhibited in over 350 solo, group, museum and gallery exhibits across the world, and he has been featured in over 425 publications. Highlighted exhibitions include: Visions at the Dallas Museum of Art in 1984- 85: In the Meadows in 2003 at the Meadows Museum in Dallas, Texas; and James Surls – The Splendora Years, 1977 – 1997 which was at the Blaffer Gallery Art Museum at the University of Houston. All of these exhibitions were accompanied by a book. The most recent book showcasing his work is titled "James Surls: From the Heartland" published by The Grace Museum in Abilene, Texas. He currently resides in Carbondale, CO. Surls was also a speaker at the 2019 CASETA Symposium.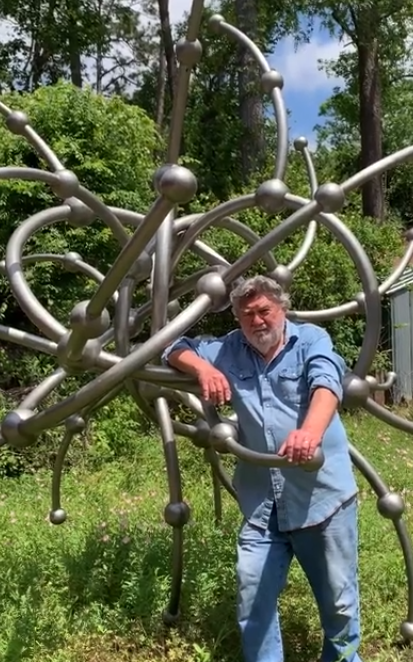 -----------------------------------------------------------------------------------------------
Distinguished Service Award
Is given in recognition of the recipient's long-time and distinguished service to CASETA and the promotion of early Texas art
Katie Robinson Edwards | Austin, Texas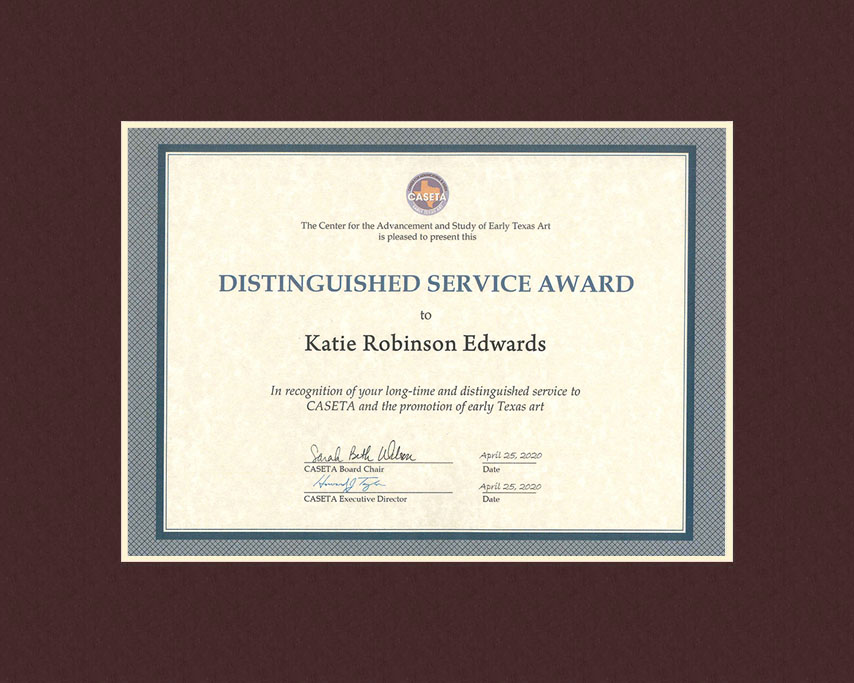 Katie Robinson Edwards, Ph.D., is Curator of the Umlauf Sculpture Garden & Museum in Austin. In addition to curating exhibitions and writing on Texas art, she has written on Chuck Close, Jackson Pollock, Robert Rauschenberg, Jessica Stockholder, Andrew Wyeth, and Jamie Wyeth. She taught modern and contemporary art at the Allbritton Art Institute at Baylor University for eight years. Her book on Midcentury Modern Art in Texas was published in June 2014 by the University of Texas Press. Her interest in Texas art was sparked in 2007 when she first saw midcentury painting and sculpture by Texas artists during an exhibition at Baylor. Katie was on the board of CASETA from 2010 until 2019. She is a valuable member of the CASETA community and has always had CASETA's best interest at heart.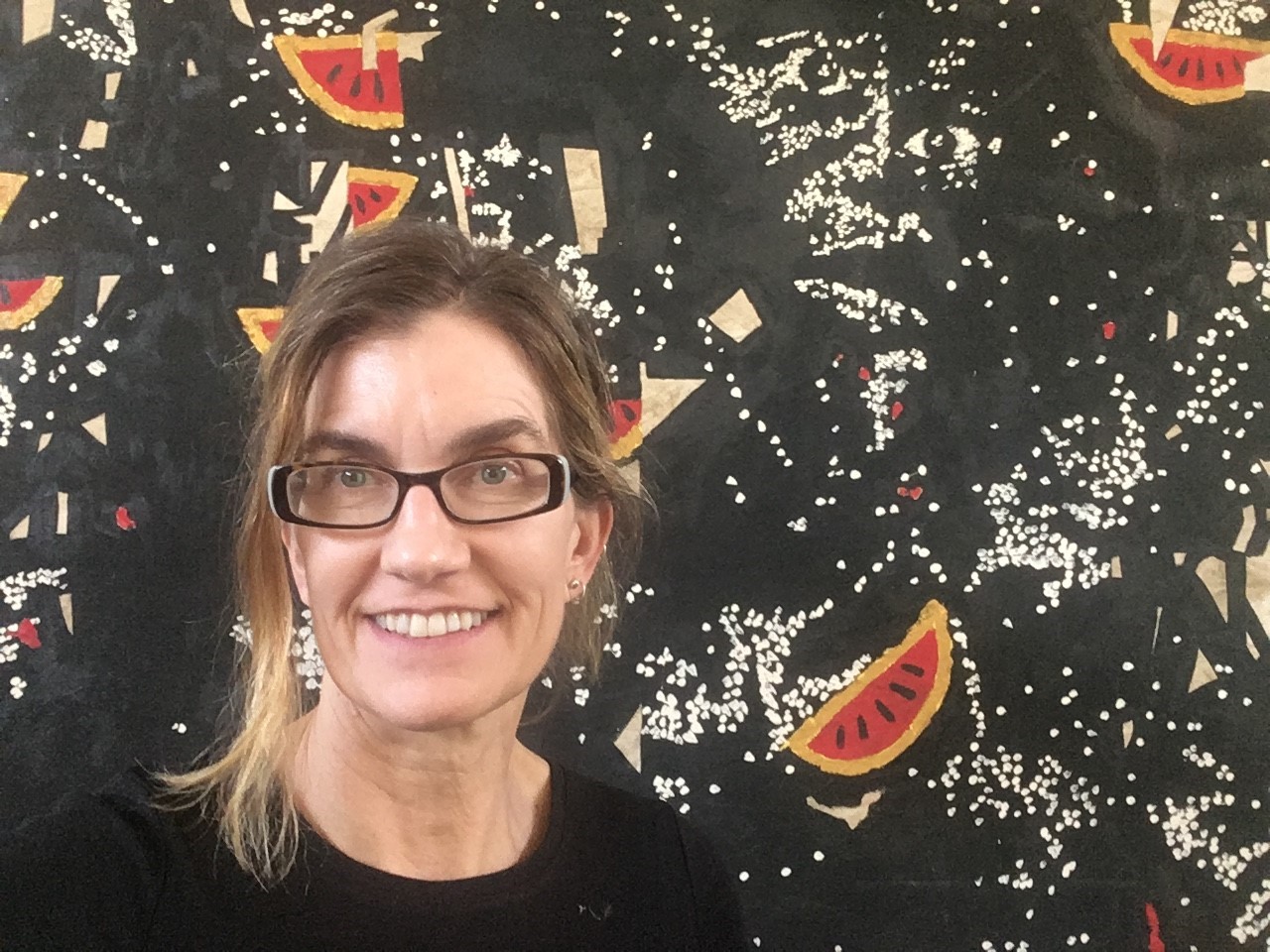 -----------------------------------------------------------------------------------------------
Exhibition Award
Is presented to an institution that has organized and presented the most outstanding exhibition on early Texas art during the previous calendar year.
The Witte Museum
for the exhibition
The Art of Texas: 250 Years
May 4 - Aug. 25, 2019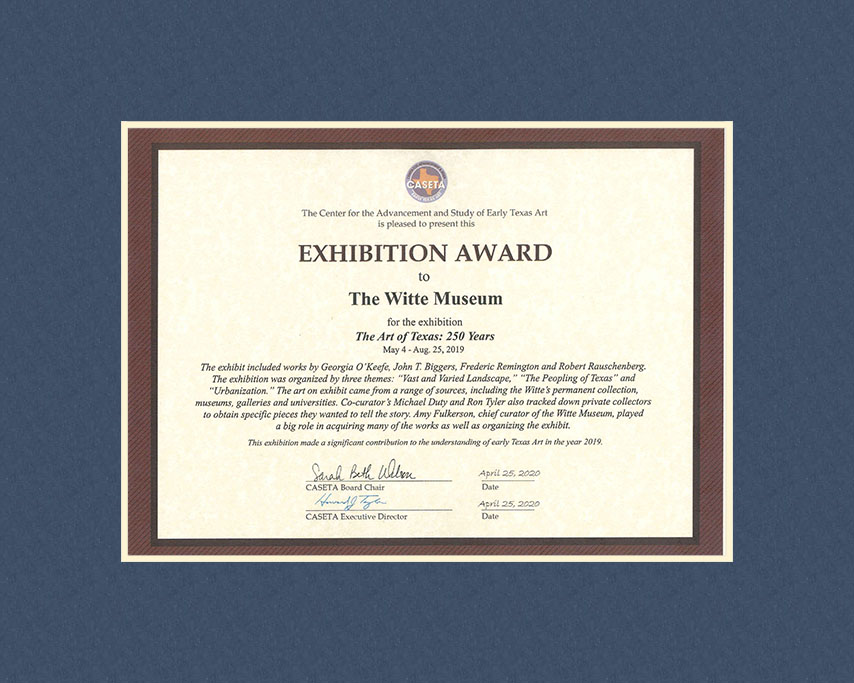 The exhibit included works by Georgia O'Keefe, John T. Biggers, Frederic Remington and Robert Rauschenberg. The exhibition was organized by three themes: "Vast and Varied Landscape," "The Peopling of Texas" and "Urbanization." The art on exhibit came from a range of sources, including the Witte's permanent collection, museums, galleries and universities. Co-curator's Michael Duty and Ron Tyler also tracked down private collectors to obtain specific pieces they wanted to tell the story. Amy Fulkerson, chief curator of the Witte Museum, played a big role in acquiring many of the works as well as organizing the exhibit.
-----------------------------------------------------------------------------------------------
Publication Award – Book
To be presented to an individual or individuals who have made the most important contribution in book to the published literature on early Texas art during the previous calendar year.
Ron Tyler, HISTORIAN
for the book
The Art of Texas: 250 Years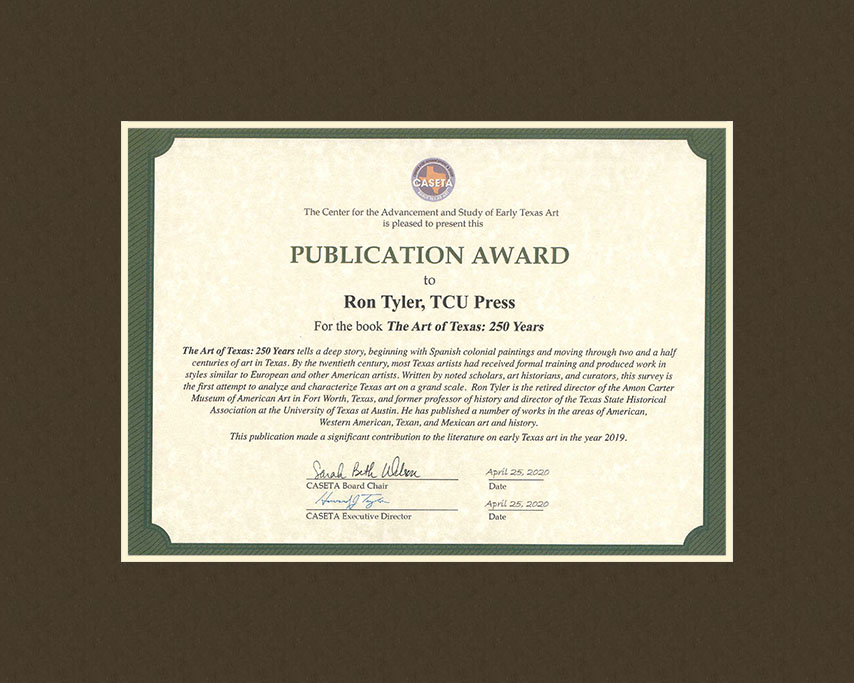 The Art of Texas: 250 Years tells a deep story, beginning with Spanish colonial paintings and moving through two and a half centuries of art in Texas. By the twentieth century, most Texas artists had received formal training and produced work in styles similar to European and other American artists. Written by noted scholars, art historians, and curators, this survey is the first attempt to analyze and characterize Texas art on a grand scale.
Ron Tyler is the retired director of the Amon Carter Museum of American Art in Fort Worth, Texas, and former professor of history and director of the Texas State Historical Association at the University of Texas at Austin. He has published a number of works in the areas of American, Western American, Texan, and Mexican art and history.
This publication made a significant contribution to the literature on early Texas art in the year 2019.
-----------------------------------------------------------------------------------------------
Proposed special award
Vic Roper
Texas Artists and Artisans, 1718-1959:
A Compilation of Artists, Sculptors, and Artisans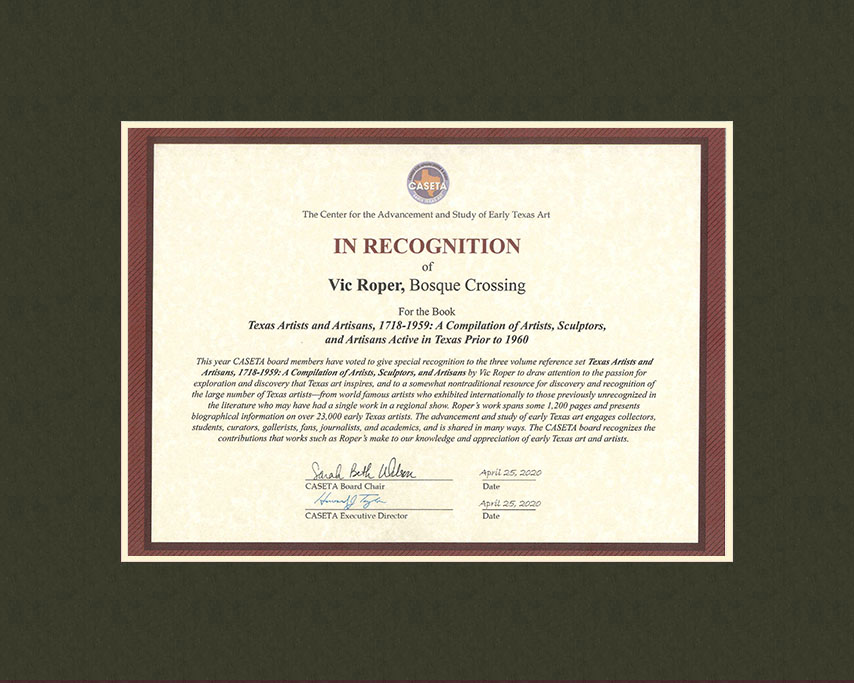 "This year CASETA board members have voted to give special recognition to the three volume reference set Texas Artists and Artisans, 1718-1959: A Compilation of Artists, Sculptors, and Artisans by Vic Roper to draw attention to the passion for exploration and discovery that Texas art inspires, and to a somewhat nontraditional resource for discovery and recognition of the large number of Texas artists—from world famous artists who exhibited internationally to those previously unrecognized in the literature who may have had a single work in a regional show. Roper's work spans some 1,200 pages and presents biographical information on over 23,000 early Texas artists. The advancement and study of early Texas art engages collectors, students, curators, gallerists, fans, journalists, and academics, and is shared in many ways. The CASETA board recognizes the contributions that works such as Roper's make to our knowledge and appreciation of early Texas art and artists."
After serving four years in the U.S. Navy during the Viet Nam War, Roper obtained a teaching position in a Texas high school. He was given five separate subjects to prepare for that first year. Since then, it has gotten a lot easier. He has been a public school principal and superintendent, CEO of several banks, and always an unabashed proponent of early Texas art.
-----------------------------------------------------------------------------------------------
The 2018-2019 Nancy and Ted Paup CASETA Research Initiative Award
is presented to
Rebecca Martin | Ft. Worth, TX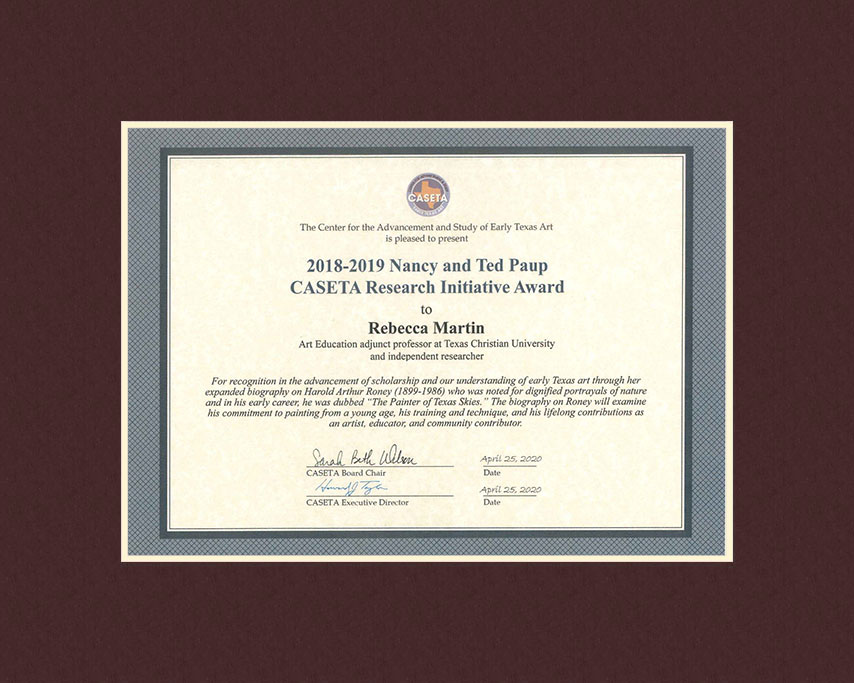 Rebecca Martin, Art Education adjunct professor at Texas Christian University and independent researcher, is seeking support in the research and publication of information to prepare an expanded biography on Harold Arthur Roney (1899-1986) who was noted for dignified portrayals of nature and in his early career, he was dubbed "The Painter of Texas Skies." The biography on Roney will examine his commitment to painting from a young age, his training and technique, and his lifelong contributions as artist, educator and community contributor.