In the Steps of the Master: Frank Reaugh

In the Steps of the Master: Frank Reaugh
Museum of Fine Arts Tells the Story of a Texas Tradition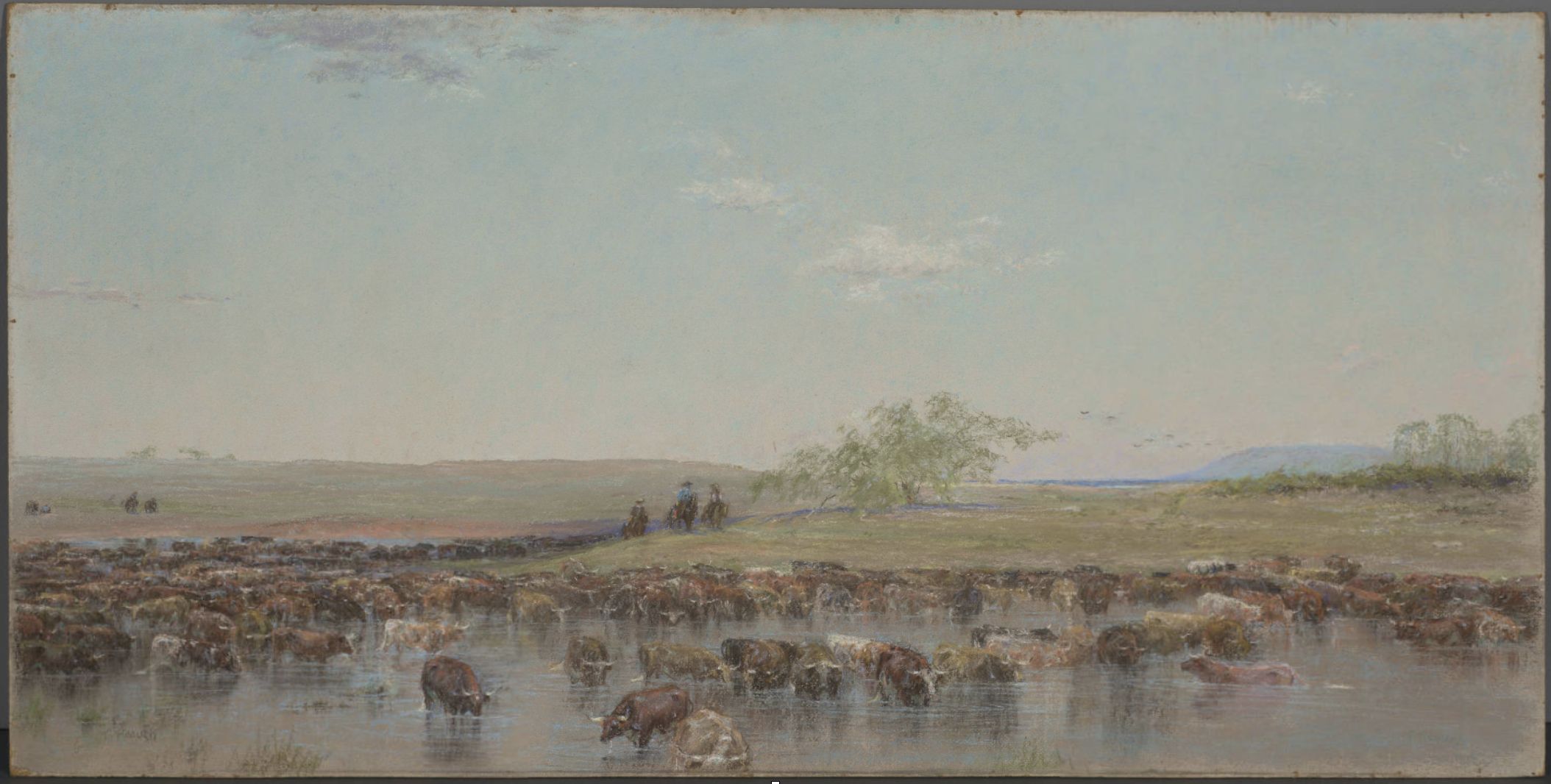 "Watering the Herd" by Frank Reaugh, ca. 1932, Pastel. Harry Ransom Center, University of Texas at Austin
The San Angelo Museum of Fine Arts is pleased to announce the opening of two new exhibits which highlight the talent of Texas artists, past and present: In the Steps of the Master: Frank Reaugh, Dean of Texas Artists and His Students and Light, Color, Beauty.
In the Steps of the Master showcases 31 works by legendary Texas artist Frank Reaugh and his most prominent students, on loan from the collection of Michael Phillips in Houston and from the Panhandle-Plains Historical Museum in Canyon, Texas. The exhibit was created in consultation with Michael R. Grauer, the McCasland Chair of Cowboy Culture and Curator of Cowboy Collections and Western Art at the National Cowboy & Western Heritage Museum in Oklahoma City.
Called the "Dean of Texas Painters," Frank Reaugh (1860-1945) and his family settled on a farm near Terrell, Texas in 1876, moving to Oak Cliff near Dallas in 1890. As early as 1883, Reaugh (pronounced "ray") began sketching—first from the saddle and later in a spring wagon--cattle drives and roundups in West Texas. He later enlarged and composed his sketches in his studio, resulting in some of his best-known works. In the 1930s, Reaugh also used his 1880s sketches and experience with the trail driving industry to create the multi-media performance, Twenty-Four Hours with the Herd, using his series of seven paintings by the same title accompanied by music and a script. A video version of this performance is featured as part of the SAMFA exhibition.
As early as 1890, students were traveling west with Reaugh on sketching trips, which would later become annual events; first by horse, mule and wagon and later by automobile. In 1920, Frank Reaugh's custom built, open-air Ford touring bus, nicknamed the "Cicada," made its maiden voyage west and continued to be employed for almost 20 years on annual sketching trips that ranged from the Texas Panhandle south to Big Bend and west to New Mexico and Arizona. Reaugh continued his annual sketching trips until he was almost eighty. SAMFA's exhibit features works that were completed by Reaugh and his students—many of whom became prominent Texas artists in their own right—while on these sketching trips.
Reaugh's methods, materials, and practices as an artist and teacher were inventive and sometimes revolutionary. The sketching trips in the Cicada offered only rough (and somewhat crowded) living conditions, but artists who studied with Reaugh include men and women both. Also, Reaugh invented a number of useful and novel tools for artists, such as a folding lap easel and a compact carrying case for pastels. Reaugh created and marketed his own brand of pastels, blended to color-match the region's native flora. Each pastel was cast in a hexagonal shape for ease of handling and packing in the field.
Frank Reaugh's sketching trips brought him and his students through San Angelo and its environs on more than one occasion. More importantly, Reaugh taught two San Angelo students who had a passion for art and passed on what they had learned to others: Mollie Crowther (1867 - 1927) and Helen King Kendall (1895-1946).
In 1921 Crowther co-organized the Texas Artists Camp at Christoval, which in its seven years of existence grew from a local gathering to one of the leading institutions of its kind in the Southwest. With the founding of the Texas Artists Camp, Crowther sought both to promote professional fellowship among the attending artists and to provide instruction and creative stimulation from the region's foremost teachers, who included José Arpa, Xavier Gonzalez, and Adele Brunet.
Helen Kendall began studying with Reaugh when she was 16. She later assisted Crowther in running and promoting the Texas Artists Camp, and served as its treasurer, as well as an assistant instructor in landscape and still life. After the Camp's operations ceased, Kendall continued to give lessons in her San Angelo studio to many local artists, including some of SAMFA's founders. In 1946, the San Angelo Art Club named its gallery for her: the Kendall Art Gallery Located at 119 West 1st St in San Angelo, TX.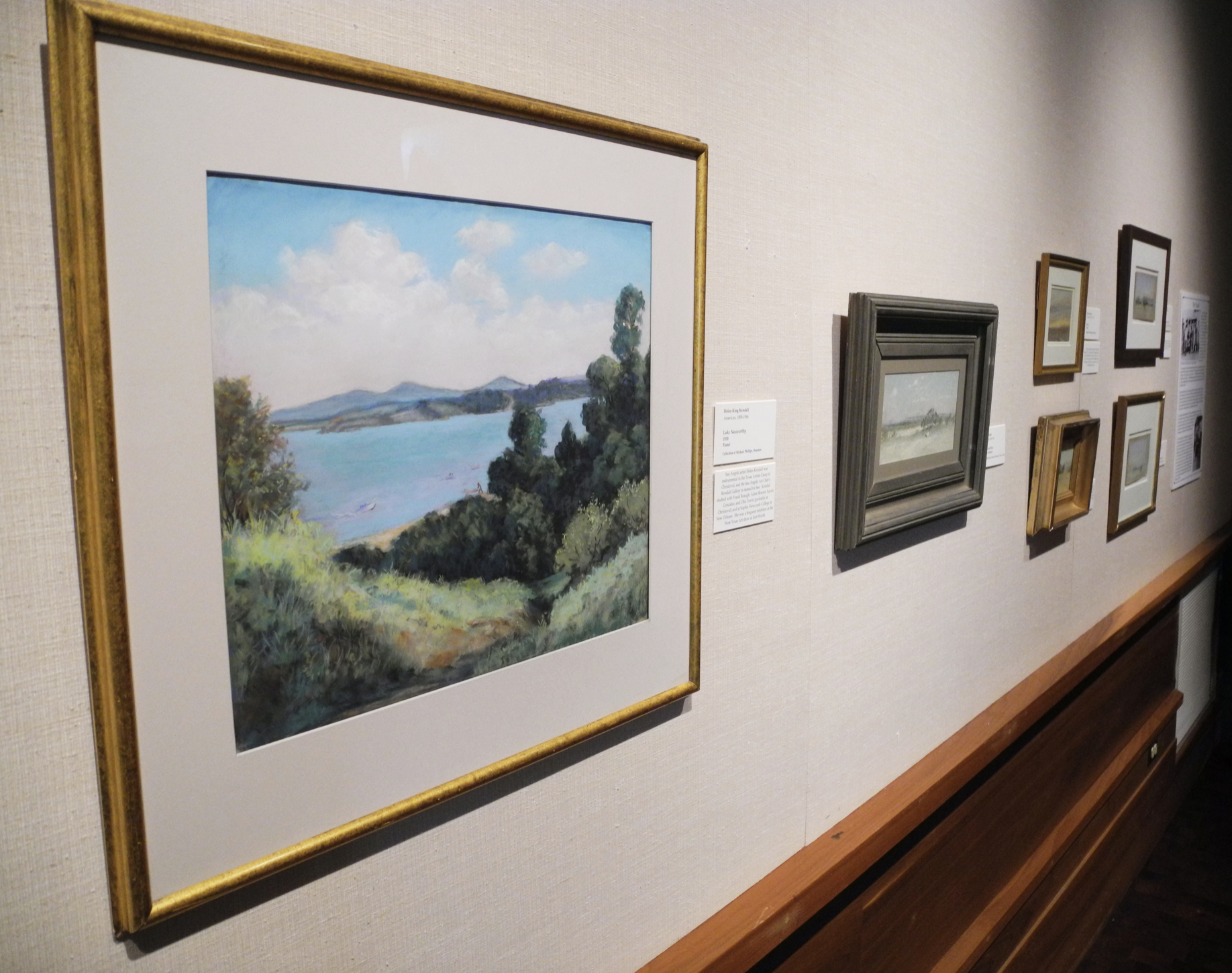 Helen King Kendall, "Lake Nasworthy," 1930. Pastel on paper. Collection of Michael Phillips, Houston
The tradition of sketching and painting en plein air ("in the open air") was introduced to West Texas by Reaugh, was continued in San Angelo by Crowther and Kendall, and is now celebrated annually in the museum's En Plein Air Texas competition, which brings noted artists from all over the world to San Angelo, for one week every fall, to paint our beautiful local scenery. Currently on display in Light, Color, Beauty are six of the past Museum Purchase Award Winners from En Plein Air Texas, as well as work by Mollie Crowther and other San Angelo artists who followed in Reaugh's footsteps. The exhibit showcases the four focus areas of SAMFA's collection, which include Texas art, ceramic art, Spanish Colonial and Latin American art, and American glass.
For more information about the exhibits please call the museum at 653-3333. The museum is supported by generous contributions from both individuals and businesses. This project is made possible by the generous lenders and donors of the art on display, the Texas Commission on the Arts, and the San Angelo Cultural Affairs Council. Admission is Free.
EXHIBIT DATES:
February 23 – April 11, 202
San Angelo Museum of Fine Arts
One Love Street
San Angelo, Texas 76903
325-653-3333
Recipient of the National Museum Service Award
Click Here to visit the Museum of Fine Arts' page about this exhibit