The Nancy and Ted Paup CASETA Research Award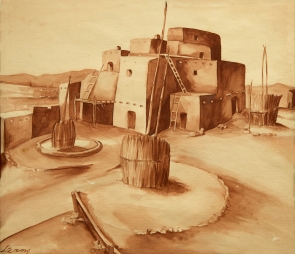 Will-Amelia Sterns Price
Taos Communal House
1935
Watercolor on Parchment
10" x 12"
Collection of Kathryn & Jen Price
The Nancy and Ted Paup CASETA Research Award - to be presented to an eligible upper level undergraduate or graduate student in History, Art History, Education, or other related fields to pursue original academic research related to the history of early Texas art and artists. This award carries a monetary award.
In the fall semester of the academic year a detailed proposal is sent from CASETA to art departments at Texas universities. Submissions are due from students by November 15 and are reviewed by the CASETA Research Awards Review Committee. Students are notified before the end of the calendar year if they have been chosen for an award. Monetary awards are mailed at that time. Award winners also receive a complimentary CASETA membership and registration to the next CASETA Symposium.

Criteria: Promote and reward original research on early Texas art and artists by young and emerging scholarship in public and private institutions of higher learning in Texas. Promote the development of curriculum materials related to early Texas art and artists for use in public schools throughout the State of Texas. Contribute to the literature on early Texas art and artists.
2015 - 2016 CASETA RESEARCH AWARD RECIPIENT
Congratulations to the CASETA 2015-2016 Research Award recipient
$1,500 Award

Linda East, Denton, Texas
2016 MA, University of North Texas
Ms. East's thesis focuses on Texas architect O'Neil Ford (1905-1982) and Texas artist Thomas M. Stell, Jr. (1898-1981) and the work they completed for Texas Instruments in Dallas. The thesis is entitled, "Semiconductors and Symbolism: Thomas Stell's Ceramic Murals and the Story of Texas Instruments."
Congratulations to the CASETA 2014-2015 Research Award recipients
Awards were funded through the 2014-2015 CASETA Matching Grant and additional gifts from CASETA supporters
2014 - 2015 CASETA RESEARCH AWARD RECIPIENTS
$1500 Award
Carmen M. Champion, Houston, Texas
2015 MA, University of Houston
Thesis: The Greater Texas and Pan American Exposition: An Early Staging of Texana Identity
Thesis examines the Catalogue of the Exhibition of Art of the Americas: Pre-Columbian and Contemporary, which stems from the Greater Texas and Pan-American Exposition held in Dallas, Texas in 1937.
Read abstract of Champion's thesis
$1000 Award
Susannah Aquilina, El Paso, Texas
PhD Candidate in History, 2016
The University of Texas at El Paso
Dissertation: Biography of Manuel Gregorio Acosta
Dissertation examines the iconic El Paso artist, whose prolific career began in the1940s and included paintings, drawings and sculptures depicting people on the U.S.-Mexico border.
Read abstract of Aquilina's dissertation
$250 Award
Hannah Joan Wilson, Denton, Texas
Junior, Honors College
University of North Texas, Denton
Research project examining the State of Texas Building within Fair Park as a functioning monumental object in hopes of illustrating Texas identity through visual analysis and historical memory.

Print Friendly