Sponsors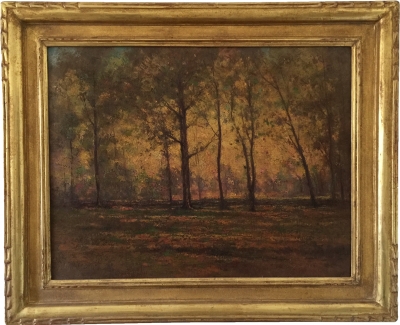 Hale Bolton, An Autumn Woodland, 1917. Oil on canvas
Courtesy of the George and Beverly Palmer Collection
2018 Symposium Sponsorship Opportunities
Please contact Howard Taylor, Executive Director,
caseta@samfa.org or 325.212.4872 for more details
or
You may mail your contribution to
CASETA, PO Box 3726, San Angelo, TX 76902
or
Click here to make a pre-arranged sponsorship contribution
CASETA's annual
symposium
provides a
comprehensive Tex
as art history forum for a wide ranging audience. Participants include
everyone from
collectors, dealers and art enthusiasts
to
teachers, curators, museum directors
and scholars.
A uniq
ue feature of our annual event is t
he Texas Art Fair
which provides a
convenient way for
our attendees to
purchase early Texas ar
t from leading dealers brought together from across
the state.
Please help us make this a successful symposium. This event is our primary means for raising the funds we need to carry out our educational mission. All sponsors will be recognized in our Symposium program and on CASETA's website. Sponsors at the Bronze and Silver levels receive one complimentary registration. Sponsors at the Gold and Platinum levels receive two complimentary registrations. Sponsors at Diamond levels receive four complimentary registrations. Sponsors at the Grand Underwriter level receive six complimentary registrations. Please consider making a gift at one of the following levels:
Grand Underwriter $10,000 and above
Diamond $5000 and above
Platinum $2,500 - $5,000 and above
Gold $1,000
Silver $500
Bronze $250
Please Click Here for Details about Sponsorship Levels
CASETA is a 501(c)(3) non-profit organization, and your contribution is tax-deductible to the full extent allowed by law. You may mail your contribution to CASETA at PO Box 3726, San Angelo, TX 76902 or make a pre-arrangedcontribution on-line. If you have any questions, please feel free to contact Howard Taylor, Executive Director, or Valerie Bluthardt, Administrator at (325) 212-4872 or caseta@samfa.org
THANK YOU!
2018
Symposium and Texas Art Fair
SPONSORS
Grand Underwriter

Still Water Foundation
Diamond

Heritage Auctions
Bobbie and John Nau
Jason Schoen
The Witte Museum

Platinum
Dr. Mary Arno
Charlie and Alice Adams
John and Cele Carpenter
Bill and Mary Cheek
In Appreciation of Cynthia and Bill Gayden
George and Beverly Palmer
Texas Commission on the Arts
Gold
Judy and Stephen Alton
Arceneaux Wilson & Cole LLC
Pamela and Hunter Barrier
Jim and Jill Cochran
In Appreciation of Cynthia and Bill Gayden
Heartland Security Insurance Group
HETAG - Houston Earlier Texas Art Group
Mark and Geralyn Kever
Ted and Sharon Lusher
Morris Matson
Marshall Meece
Lee and Candyce Pfluger
Stan Price and Clay Huffard
Konrad Shields - in memory of Wes Miller
Patricia and Jeffrey Sone
Richard Stout
Robert and Hillary Summers
TACO - Texas Art Collectors Organization
Howard and Becca Taylor
Randy Tibbits and Rick Bebermeyer
Vogt Galleries Texas
Silver
Scott Chase and Debra Witter
David Dike Fine Art
Dow Art Galleries LLC
Tom and Tam Kiehnhoff
Larry Martin
Nancy and Ted Paup
Bill and Linda Reaves
Ben and Beverly Stribling
Valley House Gallery
Vineyard Frame Designs – Craig Snodgrass
Sarah Beth Wilson and Joseph McKeel
Bronze
Russ Aikman
Eugenie Baranoff
Clint Barrett, Art…Is Giving Back
Bonnie Campbell
Dallas Museum of Art
D. Jack Davis
Gail C. Davis
Dawson Dawson-Watson Family
Eric Franke
Kenneth and Debra Hamlett
Helen A. Houp
Christian Kelleher and Theresa Clarke
Allen Lea
Pam and Bob Leibrock
Jim and Susan Lockhart
Norma McManaway
Bill and Nancy Murchison
Noe and Kim Perez
Richard Plumly, Fine Arts of Texas, Inc.
Sally Reynolds and Associates
Pete and Lesley Schlumberger
Nancy Shelton
David Spradling and Lisa Harvell
Jane Stone
Russell Tether Fine Art
Fred and Cortney Vant Slot
Anne Zanikos Art Conservation

Print Friendly