Noe Perez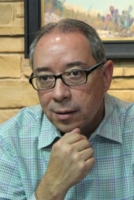 Noe Perez
Noe Perez is a landscape artist living in Corpus Christi.
"I was one of those kids that was always drawing. During my junior high school years, I took some private lessons with a local artist, and that taught me the basics of how to use oil paints. I've been experimenting and developing ever since."
Noe's subject emphasis is in the South Texas landscape where he grew up and still lives. Noe's work is influenced by the San Antonio school of early Texas Impressionism-Julian Onderdonk, Jose Arpa, Porfirio Salinas, Robert Wood, and Dawson Dawson-Watson. Noe graduated in 1979 from Texas A & I in Kingsille, TX with a BS in Civil Engineering and currently is a structural P.E. with a consulting firm in Corpus Christi. Noe is a member of SEAoT, Structural Engineer's Association of Texas. Though work and a family keep him pretty busy, Noe still finds time to produce original artwork in a home studio. "Most of my spare time is spent painting, planning new paintings, or reading about art. I enjoy many types of art, but Texas art is the closest to my heart." Noe is represented by William Reaves Fine Art and Greenhouse Fine Art.
<< Return to List