Mark A. Castro, Ph.D.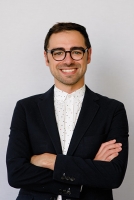 Mark A. Castro, Ph.D.
Mark A. Castro has been the Jorge Baldor Curator of Latin American Art at the Dallas Museum of Art (DMA) since 2019, where he is currently at work on a forthcoming retrospective Octavio Medellín: Spirit and Form (2022). At the DMA, he has also curated/co-curated Flores Mexicanas: Women in Modern Mexican Art (2019), To Be Determined (2020), Frida Kahlo: Five Works (2021), and Devoted: Art and Spirituality in Mexico and New Mexico (2021). Prior to coming to Dallas, he held various positions at the Philadelphia Museum of Art where he was involved in numerous exhibitions, including co-curating the internationally acclaimed Paint the Revolution: Mexican Modernism, 1910-1950 (2016).
Although Castro's research has touched on various regions of Latin America, his primary focus is on the arts of Mexico, from the viceregal era through the twentieth century. Castro holds a B.A. in Archaeology and Studio Art from Hamilton College, and an M.A. and a Ph.D. in art history from Bryn Mawr College.
<< Return to List