Brandi Sheldon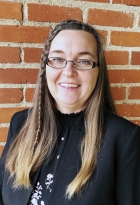 Brandi Sheldon
Administrator
I am really excited to be joining the team as the new administrator. I have been honored to be able to have a great teacher in Valerie since mid-January and am happy that she will be helping me through my first CASETA symposium. I am amazed at the incredible amount of work she puts into this event (not to mention the rest of the year), and I am really excited to jump in, help, and start learning the ropes!
My family and I have lived in the San Angelo area for about 20 years and I was raised mostly in Texas. I love everything about Texas. I have always been interested in art and wanted to be an artist from a very young age. After years of people telling me it is impossible to make a living as an artist, I conceded and decided to pursue teaching. So I received my BA in Art Education from Angelo State University in 2011. I went on to gain my MA in Curriculum and Instruction in 2013 also from Angelo State University. I am currently pursuing an online degree program in Arts Administration.
My husband David and I have five grown children and one gorgeous granddaughter. We live north of San Angelo about 45 miles on a little 20 acre place I call Tortuga Ranch. We have Boer goats, a horse, four barn cats, and two African spurred tortoises. We spend a lot of time outside in the summer and love the heat.
<< Return to Staff List