Randy Tibbits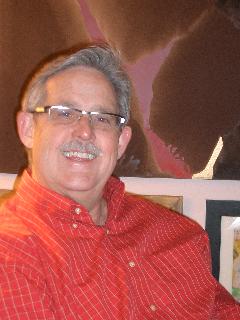 Randy Tibbits
Randy Tibbits, though not a Texan by birth due to a quirk of army life, has Texas ancestors going back four generations and grew up in Lubbock. Thankfully, his deep Texas roots seem to have redeemed him from that foreign birth (in Oklahoma), and to have predisposed him to a love of Early Texas Art. He has lived in Houston for over 30 years.
In his real-world life – the one that didn't revolve entirely around Early Texas Art – Randy was a librarian who worked in the corporate sector for a while at Shell Oil Company, and then moved to the Fondren Library at Rice University, where he worked for 25 years. Since retiring in 2013, Randy has had much more time to curate exhibitions, write about Early Texas Art (and other art too as an art reviewer for the Houston Press), and do what he can to further the cause of CASETA.
Randy has degrees in history from Washington University in Saint Louis and in Library Science from The University of Texas at Austin. The history background has been invaluable to him in his ongoing quest to find out every possible fact about Early Houston Art – a quest which will never be finished since the subject is inexhaustible, thank goodness. One of Randy's great delights in life is reading other people's mail – especially when it's that of Emma Richardson Cherry, Ola McNeill Davidson, Gene Charlton, and a host of other Houston artists he'll never meet, though he lives with them every day.
Randy was one of the founding members of the Houston Earlier Texas Art Group, and has served as HETAG program coordinator since its inception in 2002. He has attended every CASTEA Symposium and has been on the program at several.
For Randy and his husband, Rick Bebermeyer, Early Texas Art – especially that of Houston – has been a passion since they bought an innocent looking little Olive Brack painting back in 1999. Neither of them had any idea then where it would lead, but they're both very pleased that it has lead to a house full of art, the chance to know and work with lots and lots of fun and equally passionate ETA enthusiasts around the state, and now the opportunity to make a contribution to the ongoing work of CASETA.
<< Return to Staff List